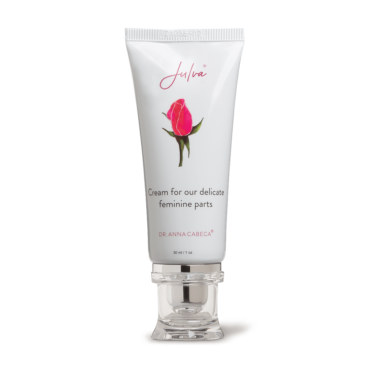 Product Description
Rejuvenates vaginal tissue & restores moisture
Prevents leaks
Intensifies passion & sensation, while re-igniting desire
Improves skin elasticity & tightness
Works as an outstanding lubricant

Restore your confidence and revive your sex life with this all-natural, gynecologist-created feminine cream. Rich moisturizers soothe your most delicate areas while specialized ingredients turn back the clock, increasing moisture, elasticity, and sexual pleasure—and making uncomfortable leaks a thing of the past.

Alpine Rose Stem Cells (Rhododendron Ferrugineum Leaf Cell Culture Extract)
Coconut Oil
Vitamin E Tocopherol
Butyrospermum parkii (Shea Butter) Fruit
Emu Oil
Water
Glycerin
Cetearyl Alcohol
Undecyl Alcohol (anti-microbial)

Active Ingredient

Dehydroepiandrosterone (DHEA)

Once you're a proud Julva owner, make a daily habit of applying 0.5 mls to the vulva, clitoris and surrounding skin. You can apply it in the morning or in the evening, whatever works better for you. Typically, we recommend using it every day for one month or until desired results — then 5 times per week for maintenance.

It can also be used as needed prior to intercourse (about 20 minutes before — you have to allow it to sink in and start working its magic). Wash hands thoroughly after applying to avoid transferring it to others.

You can also apply via toilet paper and wipe it on.