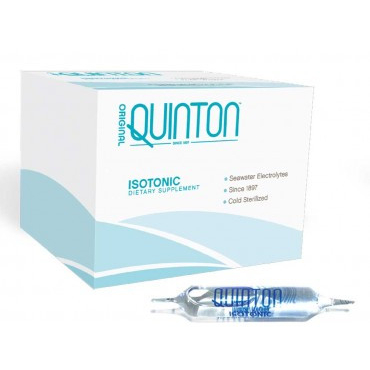 Product Description
Quinton isotonic™ may be consumed by everyone without exception regardless of age. This formula is particularly recommended for those over 50 years of age.
Modern life, with its multitude of daily stressors and its less-than-ideal nutritional habits, tends to contribute to the accumulation of toxins in the body. Such a situation may alter the electrolytic balance of the body causing undue fatigue and may ultimately lead to disease. The nutritional vitality of Quinton isotonic™ formula will surely provide the "solution".
Quinton Isotonic™ sea water contains all the minerals and trace elements in the same proportions as they occur in blood plasma. A number of elements are to be found only in traces, yet they are known to be essential to the assimilation of vitamins by the body, thereby making them indispensable to the health of the human organism.
Quinton isotonic™ can restore the health of the organism by re-establishing biological equilibrium. They tend to revitalize the cells progressively by restoring the supply of all the minerals necessary to a fully-functionning metabolism.
Bottles and ampoules under each name label contain identical solutions. It should be noted that Quinton products are totally compatible with most doctor's prescription and over-the-counter drugs.
Ingredients: seawater
Dosage: 1-4 ampoules daily
Precautions: consult a health care professional