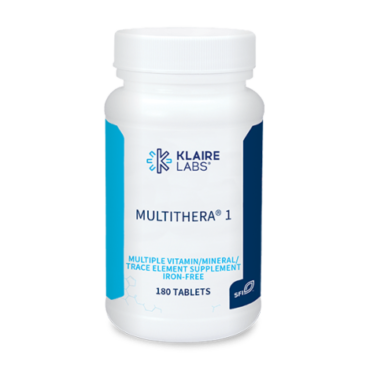 Product Description
This versatile, high-potency multiple vitamin and mineral supplement is formulated to be the primary dietary supplement for all types of patients. The amounts and ratios of nutrients are based on many years of clinical experience. Nutrient forms that provide documented bioavailability are included for maximum benefit. The 1:1 calcium to magnesium ratio, high-potencies of vitamins E, C, D3, and B-complex, active forms of folate and vitamin B12, extra pantothenic acid for adrenal support, and full complement of trace elements distinguish this formula from ordinary multiple vitamins. This iron-free formula option is most suitable for the majority of patients. Supplemental iron is unnecessary for most adult men and women and may be potentially harmful, as excessive amounts have been associated with heart disease, arthritis and cellular damage. Copper is included because of its importance for antioxidant enzyme activity and to maintain a healthy balance with zinc. This concentrated formula is designed to fit into six tablets daily. A clear, water-soluble cellulose coating protects the stability of the nutritional ingredients and makes the tablets easy to swallow. Each batch is tested using USP protocols to ensure tablet disintegration time of 45 minutes or less to help maximize nutrient bioavailability. MultiThera™ contains well-absorbed forms and nutritionally meaningful amounts of 30 essential vitamins, minerals, and trace elements in 6 tablets or capsules daily. MultiThera™ is free of common allergens, artificial flavors, preservatives, and colorings. MultiThera™ is available with or without added iron. MultiThera 1™ is especially recommended for men, postmenopausal women, and women with light or normal menstrual flow who may not need supplemental iron.

MultiThera 1™ is a full-spectrum multiple vitamin and mineral supplement formula containing:

More complete "families" of nutrients for natural balance and safety
• 100% natural vitamin E complex, including all mixed tocopherol isomers (d-alpha, d-beta, d-gamma, and d-delta), provides broader antioxidant protection
• Both preformed vitamin A (retinol) and its carotene precursor extend more complete vitamin A nutrition
• All-natural mixed carotenoids, including alpha and beta carotenes, lutein, zeaxanthin, and beta-cryptoxanthin offer more diverse benefit and are safer than synthetic beta-carotene alone
• Vitamin K1 and vitamin K2 (as menaquinone-7) are included to support both blood coagulation and bone metabolism
• Complete vitamin B-complex supports many metabolic functions and includes significant amounts of B-vitamins most crucial to helping maintain normal homocysteine metabolism

Activated folate and vitamin B12 for highest absorption and bioavailability
• Metafolin®** L-5-methyltetrahydrofolate (L-5-MTHF), an active form of folate, unlike folic acid, is absorbed and utilized directly and is the most beneficial form for patients with elevated homocysteine resulting from compromised utilization of folate
• Methylcobalamin and 5-adenosylcobalamin, the active forms of vitamin B12, are the most reliable oral forms of this difficult-to-absorb nutrient

Extra vitamin D3 to optimize daily intake for broad physiological benefit
• Natural vitamin D3 is included at 1,000 IU daily, a higher amount than typically found in daily multivitamins, to help achieve optimal intakes now recognized to support bone health as well as its numerous roles in tissues throughout the body

Mineral and trace element compounds with validated bioavailability
• True amino acid chelates from Albion® Laboratories are fully-reacted, low molecular weight mineral compounds with exceptional tolerance and documented bioavailability
• Calcium citrate-malate is a well-studied calcium compound with higher absorption and effectiveness than many other calcium sources
• Organically-bound chromium and vanadium complexes offer high physiological activity



Suggested Use: 3 tablets twice daily with food.


Ingredients:

Supplement Facts
Serving Size 6 Tablets
Amount Per 6 Tablets
% Daily Value

Vitamin A (86% (15,000 I.U.) as natural carotenes (alpha, beta, beta-cryptoxanthin, zeaxanthin, and lutein) from D. salina and 14% (2,500 I.U.) as vitamin A palmitate)
17,500 I.U.
350%

Vitamin C (as calcium ascorbate and magnesium-potassium ascorbate complex)
1,200 mg
2000%

Vitamin D3 (as cholecalciferol)
1,000 I.U.
250%

Vitamin E (as d-alpha tocopheryl succinate plus mixed tocopherols d-beta, d-gamma, d-delta) from soy
400 I.U.
1333%

Vitamin K (67% as vitamin K1 phytonadione and 33% as vitamin K2 menaquinone-7)
60 mcg
75%

Thiamine (as thiamine hydrochloride USP)
100 mg
6667%

Riboflavin USP
50 mg
2941%

Niacin (75% as niacinamide USP and 25% as niacin USP)
200 mg
1000%

Vitamin B6 (as pyridoxine hydrochloride USP)
50 mg
2500%

Folate (as Metafolin®** L-5-methyltetrahydrofolate)
800 mcg
200%

Vitamin B12 (50% as methylcobalamin and 50% as 5-adenosylcobalamin)
200 mcg
3333%

Biotin USP
300 mcg
100%

Pantothenic Acid (as d-calcium pantothenate USP)
400 mg
4000%

Calcium (76% as calcium citrate-malate and 24% as calcium ascorbate)
500 mg
50%

Iodine (from kelp)
150 mcg
100%

Magnesium (75% as magnesium aspartate-ascorbate complex and 25% magnesium glycinate chelate***)
500 mg
125%

Zinc (as zinc glycinate chelate***)
20 mg
133%

Selenium (as L-selenomethionine)
200 mcg
286%

Copper (as copper glycinate chelate***)
2 mg
100%

Manganese (as manganese glycinate chelate***)
2 mg
100%

Chromium (as chromium nicotinate glycinate chelate***)
200 mcg
167%

Molybdenum (as molybdenum glycinate chelate***)
150 mcg
200%

Potassium (as potassium aspartate-ascorbate complex)
99 mg
3%

Boron (as boron aspartate-citrate)
2 mg
*

Vanadium (as bisglycinato oxovanadium)
100 mcg
*

Choline (as choline bitartrate)
150 mg
*

Inositol
50 mg
*

para-Aminobenzoic Acid USP
50 mg
*

Citrus Bioflavonoids (85 mg as citrus bioflavonoid complex, min. 50% bioflavonoids, and 15 mg as hesperidin methylchalcone)
100 mg
*

* Daily value not established

Other Ingredients: Cellulose, carboxymethylcellulose sodium, silicon dioxide, vegetable stearine, vegetable gum, magnesium stearate, natural citrus flavor, and cellulose coating.

**Metafolin® is a registered trademark of Merck KGaA, Darmstadt, Germany
***Albion® Laboratories

 

Dosage: 3 tablets twice daily with food

Precautions: consult your health care professional