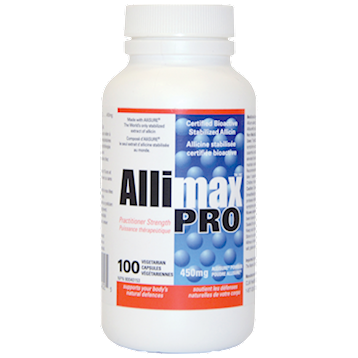 Product Description
Allimax supports your body's immune system through natural allicin, a natural compound, extacted from fresh, raw garlic using a crushing, filtration and temperature controlled extraction prcess that dissolves pure allicin in water.* Allimax uses only garlic sourced from Spain.
Allimax's sophisticated extraction process allows the capture of garlic's active component, allicin, and delivery of it to directly where your body needs it.
Years have been spent researching and developing Allimax to ensure it delivers maximum strength and maximum benefits. Allicin has shown to support overall immune response.*
It also helps aid in the immune system, circulation, digestion, and provides detoxification and cleansing abilities.*
Guaranteed 100% yield of pure allicin. Capsules can be opened and powder mixed with food or drink if preferred.
Serving Size:
1 Vegetable Capsule
Servings Per Container:
100
Allisure® AC-23 allicin powder
450 mg
Other Ingredients:
Non GMO maltodextrin, Vegetarian capsules consisting of HPMC (Hydroxpropyl methylcellulose), water
Wheat Free
Dairy/ Milk Free
Gluten Free
Soy Free
Sugar Free
Preservative Free
Salt Free
Free of Artificial Colors/Flavors
Lactose Free
Sodium Free
Non-GMO
Recommended Adult Dose: Take one capsule daily, or more if required with liquid/food. Children: Not recommended under the age of 3.