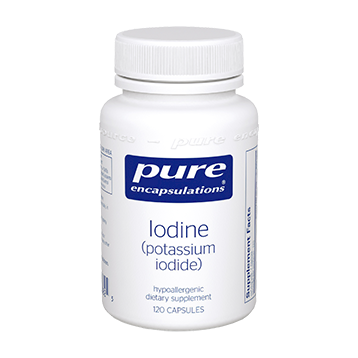 Product Description
Pure Encapsulations' Iodine capsules provide valuable support for healthy thyroid functioning in the form of potassium iodide. This powerful and exclusive formula delivers a strong boost to your body's iodine supply' which is absorbed by the thyroid gland and then promotes the generation of vital thyroid hormones. At the cellular level' these powerful thyroid hormones are able to move across cell membranes in order to provide support for every cell in the body. Within the cells' they effectively stimulate metabolic processes by enhancing enzyme synthesis and mitochondrial activity; these activities are fundamental in the proper functioning of organs and tissues like the liver and muscles.
Unlike many of the other important minerals needed for healthy living' iodine can't be made naturally by your body. As a result' you have to get sufficient levels of the trace element through a combination of foods and supplements. Iodine is present in varying amounts in an assortment of foods' including seafood' egg yolks' strawberries' potatoes' and cranberries. Despite this availability' you may be one of the many people who still experience a deficiency in this essential element. Symptoms of a lack of iodine include an enlarged thyroid gland' laziness' chronic fatigue' weakened immune system reactions' a slow metabolism' and abnormal weight gain. A shortage may also have an impact on your mental health: emotional conditions such as anxiety and depression can result.
Ingredients: Potassium iodide, hypoallergenic plant fiber
Dosage: 2 capsules daily, in divided doses, with meals
Precautions: If pregnant or lactating' consult your physician before taking this product. Taking iodine in amounts greater than 1'100 mcg per day should be monitored by a healthcare professional. Sensitivity reactions to iodine include angioedema' fever' joint pain' lymph node enlargement' eosinophilia' rash or thrombotic thrombocytopenic purpura. Pure Encapsulation iodine supplements are not designed nor recommended as support against radioactive fallout. Consult your physician for more information.