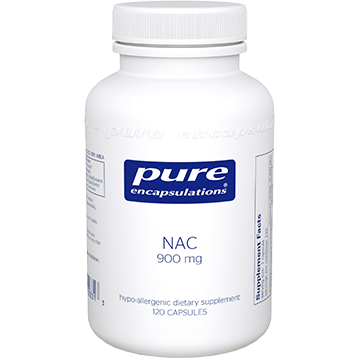 Product Description
N-Acetyl-l-Cysteine (NAC) is a derivative of the dietary amino acid l-cysteine. NAC has a high affinity for lung tissue, which it supports through mucolytic and antioxidant action. By disrupting disulfide bonds, NAC thins mucus. It is a powerful free radical scavenger and thus supports the body's natural defense system. NAC supports tissue levels of glutathione, a key component of the antioxidant defense system. It also has the ability to help chelate heavy metals.
Ingredients: NAC, ascorbyl palmitate, vegetarian capsule
Dosage: 1-2 capsules daily, between meals
Precautions: Rare side effects may include nausea' vomiting' headache' dry mouth' dizziness' or abdominal pain. If pregnant or lactating' consult your physician before taking this product. NAC may interact with nitroglycerin and metoclopramide.


Hypo-Allergenic Dietary Supplement
Supplement Facts
Serving Size: 1 capsule

Amount per Serving:
vitamin C (ascorbyl palmitate) 5 mg
n-acetyl-l-cysteine (free-form) 600 mg

other ingredients: vegetable capsule
Recommendations: As a dietary supplement, take 3 capsules daily, in divided doses, between meals.
These encapsulated products contain no hidden coatings, excipients, binders, filler, shellacs, artificial colors or fragrance. Contains no dairy, wheat, yeast, gluten, sugar, soy, preservatives or hydrogenated oils.
Warning: If pregnant, consult your physician before taking this or any other product.
Tamper Resistant: Use only if safety seal is intact.
Store sealed in a cool dry area. Keep out of the reach of children.