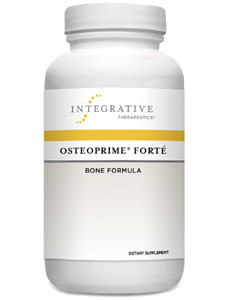 Product Description
Bone is living tissue and needs calcium and other important nutrients to support healthy bones and teeth, and support healthy bone density.  Since proper calcium intake can't always be met through diet alone, a strong supplement can make a huge difference.
OsteoPrime Forté bone formula delivers balanced nutrients to support and maintain healthy bones, including 5 forms of calcium for strong bones and teeth; magnesium to help form new calcium crystals; and zinc, vitamin C, and boron to help form the connective structures of the bone.
Ingredients: Pantothenic Acid (as calcium D-pantothenate) 20 mg / 200%
Calcium (from calcium carbonate' tricalcium phosphate' calcium lactate' calcium Kreb's cycle chelates**' and calcium citrate) 600 mg / 60%
Phosphorus (from tricalcium phosphate) 96 mg / 10%
Magnesium (as magnesium oxide and magnesium aspartate) 250 mg / 63%
Zinc (as zinc picolinate) 20 mg / 133%
Selenium (as sodium selenite) 100 mcg / 143%
Copper (as copper gluconate) 2 mg / 100%
Manganese (as manganese aspartate) 7 mg / 350%
Chromium (as chromium aspartate) 200 mcg / 167%
Molybdenum (as sodium molybdate) 50 mcg / 67%
Sodium 10 mg / <1%
Betaine HCl 20 mg / *
Boron (as boron Kreb's cycle chelates)** 2 mg / *
Strontium (as strontium chloride) 2 mg / *
Silicon (from sodium metasilicate) 1 mg / *
**Percent Daily Values (DV) are based on 2000 calorie diet.
*Daily Value not Established
vegetable capsule (modified cellulose)' modified cellulose gum' silicon dioxide' and magnesium stearate.
Dosage: 4 capsules daily, during or after meals
Precautions: If you are taking Coumadin® (warfarin) or other prescription drugs' or if pregnant or nursing' consult your healthcare practitioner before using this product.