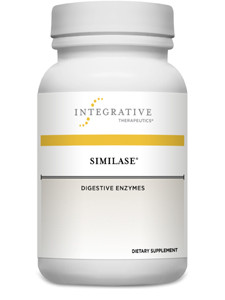 Product Description
Comprehensive, high-potency plant enzymes that support digestion of all food groups.  Similase is a proprietary blend of vegetarian enzymes that are active across a broad pH range in the digestive tract. It provides a higher potency and broader range of digestive enzymes than other products. As a result, Similase provides superior support of carbohydrate, protein, fat and fiber digestion.
Ingredients: Pure Plant Enzymes™ Assay Method 613 mg / *
Amylase
USP (pH 6.8) 32'000 USP
FCC (pH 4.8) 23'800 DU
Protease I' II' III' IV
USP (pH 7.5) 30'000 USP
FCC (pH 7.0) 48'750 PC
FCC (pH 4.7) 82'000 HUT
Lipase I' II
FIP (pH 7.0) 2'100 FIP
FCC III (pH 6.5) 970 LU
Lactase I' II
FCC III (pH 4.5) 1'600 ALU
Phytase
Phytic Acid (pH 6.0) 1.7 PU
Cellulase I' II
FCC (pH 4.5) 350 CU
Sucrase (Invertase)
FCC (pH 4.6) 300 INVU
Maltase (Malt Diastase)
FCC (pH 4.6) 32'100 DP°
 vegetable capsule (modified cellulose) and cellulose
Dosage: 1-2 capsules at the beginning of each meal
Precautions:  If pregnant' nursing' or taking prescription drugs' consult your healthcare professional prior to use.
Not recommended for use if peptic ulcer' gastritis or heartburn is present