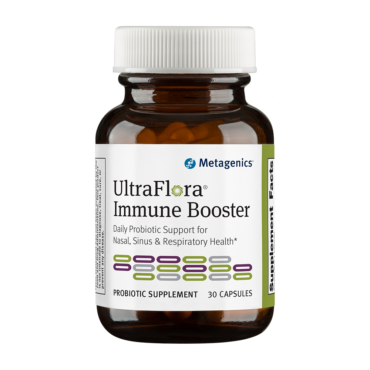 Product Description
Daily probiotic support for nasal, sinus & respiratory health*
UltraFlora® Immune Booster provides a blend of highly viable, pure strains of "friendly" bacteria that have been clinically shown to support nasal, sinus, and respiratory health. This formula is backed by the Metagenics ID Guarantee for purity, clinical reliability, and predicted safety via scientific identification of strains with established health benefits.*
This product is dairy and gluten free and vegetarian.
Directions: Take one capsule once daily or as directed by your healthcare practitioner.
Supplement Facts
Serving Size 1 Capsule†
Servings Per Container 30
Amount Per Serving
A 50:50 Blend of 1 billion live organisms††*
Lactobacillus paracasei 8700:2
Lactobacillus plantarum HEAL9
Other Ingredients: Starch, capsule (hypromellose, gellan gum), and magnesium stearate (vegetable).
Storage: Keep tightly closed in a cool, dry place.
* This statement has not been evaluated by the Food and Drug Administration. This product is not intended to diagnose, treat, cure, or prevent any disease