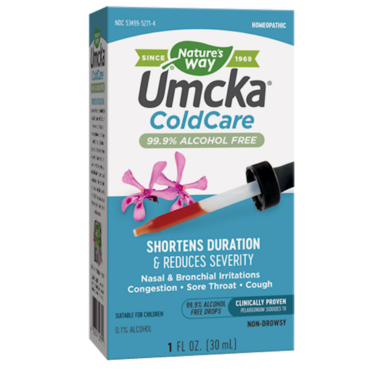 Product Description
Umcka Coldcare is a clinically proven,  alcohol-free, non-drowsy homeopathic remedy that shortens the duration and reduces the severity of symptoms associated with the common cold and throat/sinus/bronchial infections: e.g. congestion, hoarseness, cough, minor aches, headache, sore throat and helps loosen phlegm to make coughs more productive.
Ingredients: Pelargonium sidoides 1X, a south african plant used in traditional Zulu medicine to treat coughs and respiratory ailments. Also contains: purified water and vegetable source glycerin.
Dosage: For the best results, use at the first sign of symptoms and continue to use for an additional 48 hours after symptoms cease.
Adults and children 12 years of age and older: take 1 ml 3-5 times daily by mouth.
Children 6-11 years of age: take 1 ml 2-3 times daily by mouth
Children under 6 years of age: Consult a physician.
Precautions: If pregnant or breast feeding, ask a health care professional before use. Keep out of reach of children.
Sore throat warning: if sore throat severe, persists for more than 2 days, is accompanied by or followed by a fever, headache, rash, nausea or vomiting, consult a physician promptly.
Ask a doctor before use if you have a cough that lasts or is chronic such as occurs with smoking, asthma, or emphysema, or a cough accompanied by excessive phlegm.
Stop use and ask a doctor:

 if new symptoms occur, symptoms worsen or do not get better within 7 days.


 if the fever worsens or lasts more than 3 days

cough lasts more than 7 days or occurs with rash or persistent headache.

These could be signs of a serious condition.