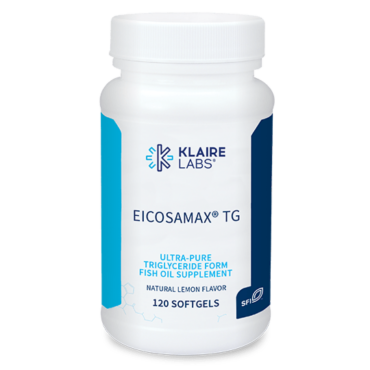 Product Description
The Klaire Labs' Eicosamax TG line of essential fatty acids provides concentrated triglyceride-form omega-3 EPA, and DHA derived from fish oil. Omega-3 fatty acids are often called "good fats" due to the numerous roles they play in supporting health, including supporting a balanced inflammatory response, assisting triglyceride metabolism, and supporting heart, joint, skin, brain, and nerve function.†
Each batch of Eicosamax is responsibly and sustainably harvested and independently tested for mercury, pesticides, and PCBs to assure exceptional oil purity. Anaerobic bottling, natural lemon flavoring, as well as added mixed tocopherol antioxidants protect against oxidation, maintain product freshness, and ensure a fresh, non-fishy taste.
Eicosamax supplies 360 mg of EPA and 240 mg of DHA per softgel.
Serving Size 1 Softgel
Amount
 
% Daily Value
Calories
10
 
Calories from Fat
10
 
Total Fat
1 g
1%**
Saturated Fat
<0.5 g
<1%**
Polyunsaturated fat
1 g
*
 
Marine Fish Oil Concentrate (highly refined)
1,100 mg
*
Total Omega-3 Fatty Acids (as triglycerides)
650 mg
*
EPA (eicosapentaenoic acid as triglyceride)
360 mg
*
DHA (docosahexaenoic acid as triglyceride)
240 mg
*
 
* Daily value not established
**Percent Daily Values are based on a 2,000 calorie diet.