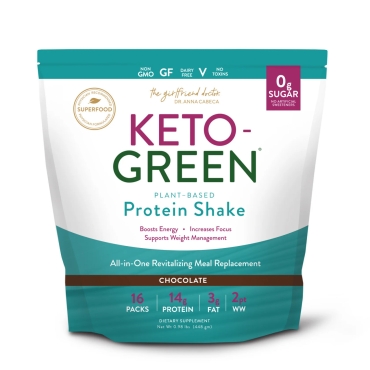 Product Description
This 15 serving all-in-one Keto-Green® meal replacement formula will satisfy, energize and revitalize your body including:
assist with weight loss

hot flash remedy 

hormone relief
This super blend contains pure vegan protein and medium-chain triglycerides (MCT), an extremely healthy fat that converts to ketone bodies.
Our shake assists athletes, busy professionals, and people with an active lifestyle. It will help you to realize an increased level of energy, focus, and performance. In addition, it will help with hunger cravings and weight management.
Supports Healthy Digestion 

– Our unique formula aides Gastrointestinal (GI) Health. Ginger Root naturally supports healthy digestion and natural responses to inflammation. Fiber naturally helps intestinal flora. MeadowPure, an organic flaxseed complex, possesses excellent oxidative stability and antioxidant activity. Glutamine plays a key role in healthy intestinal cell proliferation and gut barrier integrity, immune function, and normal tissue healing.

Helps Remove Toxins from Organs

 – Our unique blend helps protect DNA, toxin excretion, and the support of lipid metabolism. ONLY 2 WEIGHT WATCHERS POINTS.

Vegan, Gluten-Free, Non-GMO

 – Does NOT contain wheat, gluten, yeast, soy, animal or dairy products, fish, shellfish, peanuts, tree nuts, egg, ingredients derived from genetically modified organisms (GMOs), artificial colors, artificial sweeteners, or artificial preservatives.

Less Mood Changes, Dizziness, or Headaches

 – Artificial sweeteners can cause many problems in the body. All-natural monk fruit extract high-potency sweetener. High-quality sweetness and flavor without the bitter aftertaste associated with some natural sweeteners.

Protein Faster to Your Muscles

 – Easily absorbed protein mix is absorbed faster into your muscles. Our unique lactose-free nutty vegan protein blend has all the amino acids needed for the body.