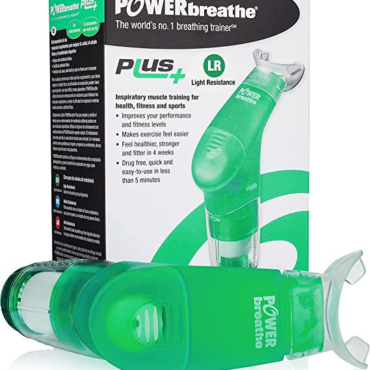 Product Description
This device is ideal for those who are not very active or have a breathing issue and would like to start breathing training. It offers a 'light resistance' to breathing in, created by the adjustable spring loaded valve.
The range between each training level is quite small which means that as your breathing muscles become stronger and you move up one of the training levels by increasing the resistance, this small increase in cmH2O makes it more manageable.
This 'load' training is similar to weightlifting, and in the instance of this 'light resistance' device, provides a level of load setting (weight lifted) in increments of 8cmH2O, from 17cmH2O to 98cmH2O.
Precautions and Contraindications:
Precautions & Contraindications 
POWERbreathe is drug free, suitable for almost anyone and should cause no harmful side effects when used properly. Please read the following precautions and contraindications to ensure that POWERbreathe is used safely and appropriately.
Precautions:
The patient must not make changes to any prescribed medication or prescribed treatment programme without consulting their doctor.

The K-Series devices are not intended for use by persons with reduced physical, sensory or mental capabilities, unless they have been given supervision or instruction concerning use of the appliance by a person responsible for their safety.

Do not use the POWERbreathe whilst taking part in other activities where you may become distracted, such as walking, running and driving.

If you have a pacemaker or other medical implant containing magnets or electronics, please consult with your doctor before using the POWERbreathe K-Series devices.

POWERbreathe should not be used if the patient is suffering from a ruptured eardrum or any other condition of the eardrum.

To prevent the potential transmission of infections, we recommend that POWERbreathe is not shared with other users, including family members.

This product is not intended to diagnose, treat, cure or prevent any disease.

POWERbreathe is designed for exercising the inspiratory muscles only. No other use is intended or implied.

Anyone who is under the age of 16 should only use POWERbreathe with supervision from an adult. POWERbreathe contains small parts and is not suitable for children under 7 years.

Whilst training with POWERbreathe the patient should feel resistance when inhaling but it should not be painful. If the patient feels pain whilst using POWERbreathe they should stop immediately and consult their doctor.

Some users may experience slight ear discomfort when training with POWERbreathe, especially if they are recovering from a cold. This is caused by inadequate equalisation of pressure between the mouth and ears. If symptoms persist, patients should consult their doctor.

If a patient is suffering from a cold, sinusitis or respiratory tract infection, we advise that they do not use POWERbreathe until symptoms have disappeared.

If you start to feel dizzy using POWERbreathe IMT, please pause until recovered and take longer gaps between breaths.