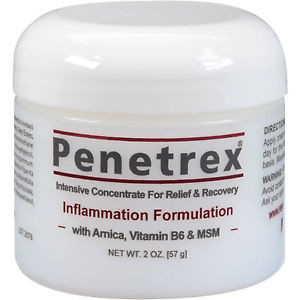 Product Description
Penetrex was designed & is indicated as a topical application to address underlying inflammation of muscles, nerves, ligaments and tendons. The efficacy of the ingredients within Penetrex are enhanced by a topical system.
Arnica
Arnica is a botanical which has been used for centuries, primarily in Europe. There are over 100 drug products made from this plant. The active components in Arnica are sesquiterpene lactones, which are known for their anti-inflammatory and pain reduction properties.
Arnica also contains thymol (an essential oil), flavonoids, inulin, carotenoids and tannins which stimulate blood circulation. Arnica works by stimulating the activity of white blood cells that perform much of the digestion of congested blood, and by dispersing trapped fluids from bruised tissue, joints and muscle. Arnica has also been shown to improve the health and conductivity of certain nerves.
Pyridoxine
(Vitamin B6)
Vitamin B6, also called pyridoxine, helps maintain the balance of sodium and potassium which regulate body fluids and promote normal functioning of the nerves. Vitamin B6 deficiency has long been associated with various symptomatologies including shoulder and leg pain, swollen hands, "tennis elbow," all forms of arthritis, and even carpal tunnel syndrome.
Two prominent physicians who have helped establish the importance of Vitamin B6 in treating Repetitive Strain Injuries include Morton Kasdan, M.D. (12-year study conducted in Louisville, Kentucky) and John Ellis, M.D. who has treated hundreds of patients with Vitamin B6 over the course of the last 26 years at his practice in Texas.
Most treatments involving pyridoxine are oral in nature and usually dispensed in large dosages. Penetrex uses smaller dosages that can be topically applied directly to the point of discomfort.
MSM / DMSO2
Methylsulfonylmethane
Originally brought to prominence by Dr. Stanley Jacob, MSM is a relatively new dietary supplement form of sulfur that is found in our living tissues. MSM supports healthy connective tissues like tendons, ligaments, and muscle.
Approximately half of the total body sulfur is concentrated in the muscles, skin and bones. One of the most significant uses of MSM as a supplement is its demonstrated ability to relieve pain and inflammation. When rigid fibrous tissue cells swell and become inflamed, pressure and pain result.
Since MSM can restore flexibility and permeability to cell walls, fluids can pass through the tissues more easily. This helps equalize pressure and reduce or eliminate the cause of pain. Harmful substances such as lactic acid and toxins are allowed to flow out, while nutrients are permitted to flow in. This prevents the pressure buildup in cells that causes inflammation.
Boswellia
Serrata
Boswellia Serrata is an herb that has a long tradition of therapeutic use, especially in India (Ayurvedic medicine). This plant is native to Africa and Asia. The part of the plant that is used therapeutically is the resin from the bark. The boswellic acids in this bark resin are thought to be responsible for the herb's anti-inflammatory and anti-arthritic activities.
Boswellia has attracted a lot of attention in the world medical community because it possesses anti-inflammatory action that is just as effective against most types of induced arthritis as most prescription medication, yet Boswellia does not have any of the side effects.
Boswellic acids (BA) are believed to suppress the proliferating tissue found in the inflamed areas and also prevents the breakdown of connective tissue. The mechanism is similar to the action of non-steroidal groups of anti-arthritic drugs with no side effects, gastric irritation and ulcerogenic activity. Studies have confirmed that Boswellia Serrata has potent anti-inflammatory and anti-arthritic activity.
Boswellia was found to improve blood supply to the joints and restore integrity of vessels weakened by spasm. Boswellia Serrata may also be useful for the treatment of rheumatoid arthritis with no side effects as those seen with traditional drugs of choice.
Cetyl
Myristoleate
CMO (Cetyl Myristoleate) was discovered in 1972 by Harry W. Diehl, Ph.D., a researcher at the National Institutes of Health. At the time, Dr. Diehl was responsible for testing anti-inflammatory drugs on lab animals. In order for him to test the drugs, he first had to artificially induce arthritis in the animals by injecting a heat-killed bacterium called Freund's adjuvant.
Dr. Diehl discovered that Swiss albino mice did not get arthritis after injection of Freund's adjuvant. Eventually, he was able to determine that Cetyl Myristoleate was the factor present naturally in mice that was responsible for this protection. When CMO was injected into various strains of rats, it offered the same protection against arthritis.
It has been proposed that CMO acts as a joint "lubricant" and anti-inflammatory agent. Patents were granted to Dr. Diehl for the use of CMO in both osteoarthritis and rheumatoid arthritis, based upon the animal studies and several case histories.
In a double-blind study, 106 people with various types of arthritis who had failed to respond to NSAIDs (non-steroidal anti-inflammatory drugs) received Cetyl Myristoleate (540 mg per day orally for 30 days), while 226 others received a placebo. These people also applied Cetyl Myristoleate or placebo topically, according to their perceived need. Some 63.5% of those receiving Cetyl Myristoleate improved, compared with only 14.5% of those receiving the placebo (a statistically significant difference).
Ingredients (Penetrex Cream): Water (Aqua), Arnica Montana Flower Extract, Helianthus Annuus (Sunflower) Seed Oil, Glycerin, Glyceryl Stearate, PEG-100 Stearate, Cetyl Esters, Steareth-20, Pyridoxine Hydrochloride (Vitamin B6), Methylsulfonylmethane (MSM/DMSO2), Glucosamine (Vegetable Source), Bilineurine Bitartrate, Ethoxydiglycol, Methyl Gluceth-20, Cetyl Myristoleate, Aloe Barbadensis (Aloe Vera) Leaf Extract, Butyrospermum Parkii (Shea Butter), Boswellia Serrata (Frankincense) Oil, Mentha Piperita (Peppermint) Oil, Cinnamomum Camphora (Camphor), Melaleuca Alternifolia (Tea Tree) Leaf Oil, Tocopherol (Vitamin E), Dipotassium Glycyrrhizinate, Dimethicone, Ammonium Acryloyl-Dimethyltaurate/VP Copolymer, Phenoxyethanol, DMDM Hydantoin, Iodopropynyl Butylcarbamate