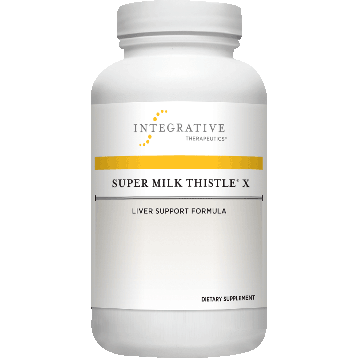 Product Description
Why take milk thistle extract?  It provides natural support for your liver in multiple ways.  Silymarin is the main ingredient in milk thistle extract and helps not only your liver, but also your other body systems (intestines, gall bladder, circulatory and lymphatic systems) detoxify, getting rid of the bad stuff that can affect your health. It acts as a powerful antioxidant, protecting your liver from chemicals called free radicals.† Free radicals are introduced to your body by outside toxins, and are created by natural processes in your body.  It is an all-vegetarian formula.

Ingredients: Milk Thistle (Silybum marianum) Fruit
One part Milk Thistle Extract' standardized to contain 80% silymarin' bound to two parts phosphatidylcholine (soy) using a proprietary process for improved absorption 100 mg / *
Artichoke (Cynara Scolymus) Leaf Extract standardized to contain 13%-18% caffeoylquinic acids calculated as chlorogenic acid 40 mg / *
Dandelion (Taraxacum officinale) Root Extract 10 mg / *
Licorice (Glycyrrhiza glabra) Root and Rhizome Extract standardized to contain 5% glycyrrhizic acid 10 mg / *
*Daily Value not Established.
cellulose' vegetable capsule (modified cellulose)' magnesium stearate' and silicon dioxide
Dosage: 1 capsule 2-3 times daily
Precautions: consult your health care professional