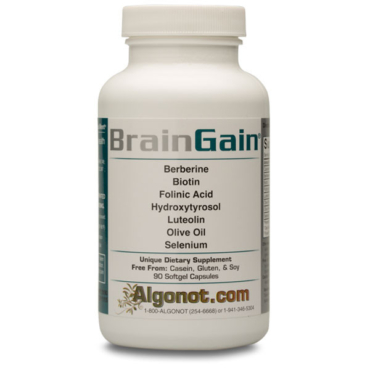 Product Description
BrainGain® – to promote brain health, cognitive function and mental sharpness.*
BrainGain® is a unique all natural oral dietary supplement in a soft gel capsule which may promote harmony in the mind and body.  BrainGain® uses an exclusive combination of ingredients, based on published research. BrainGain® has been developed to promote mental sharpness and cognitive function.*  Unique to Algonot's family of formulations is olive kernel oil and flavonoids.
BrainGain® is Free of: Milk or milk by-products, egg or egg by-products, fish or fish by-products, shellfish or shellfish by-products, tree nuts,  peanut or peanut by-products, wheat or wheat by-products , soybeans and soy by-products.
About the Ingredients in BrainGain
Berberine – May support Brain Health, Cognitive Function and Healthy Immune Function.  It may also support removal of "bio-film".
Biotin – Also known as Vitamin H, a B-complex vitamin which may support cell growth and proper metabolism of essential fatty acids. Biotin  may support healthy function of brain neurons, gastrointestinal function and may promote a healthy gut flora. 
Folinic Acid – Supports cognitive function as well as may promote production of new brain cells.
Hydroxytyrosol – Considerable evidence shows it may promote cognitive function and memory as a powerful antioxidant.
Luteolin  – A naturally occurring molecule known as a flavonoid.  An antioxidant that may reduce free radicals. 
May also promote inhibition of mast cell and microglial activation involved in brain inflammation.
Olive Pomace Oil – a powerful anti-oxidant that is instrumental in helping the body absorb and delivery the ingredients found in each soft gel capsule. This unsaturated oil, rich in antioxidants, may promote healthier brain and cardiac function.   It also substantially increases the absorbability of all ingredients in the Algonot Family of Nutraceuticals.
Selenium – May support normal development and protection of brain cells.  
Other ingredients: Gelatin, glycerin, sunflower lecithin, purified water, caramel liquid, dicalcium phosphate, beeswax (yellow), silicon dioxide, maltodextrin and citric acid.
Health providers may offer BrainGain® in conjunction with other necessary therapies
You do not need a prescription to order BrainGain®.
BrainGain® is not a cure and you may not see an immediate response. It can take up to 90 days for you to see results from BrainGain®
BrainGain® is not an analgesic.
BrainGain® should only be taken in suggested dosages.
BrainGain® should be stored in a cool temperature place away from children.
Caution: You should consult with your doctor about BrainGain® , please print this information and a copy of the label for your personal physician. Consult your health professional before starting any products in the Algonot Family of Nutraceuticals. Consult your health professional before using if you are pregnant or nursing. Consult with your health professional about BrainGain® if you are allergic to any of the ingredients listed on this page or on the label.
THESE STATEMENTS HAVE NOT BEEN EVALUATED BY THE FDA. THIS PRODUCT IS NOT INTENDED TO DIAGNOSE, TREAT, CURE, OR PREVENT ANY DISEASE.
*The information on this label or page has not been evaluated by the Food and Drug Administration.