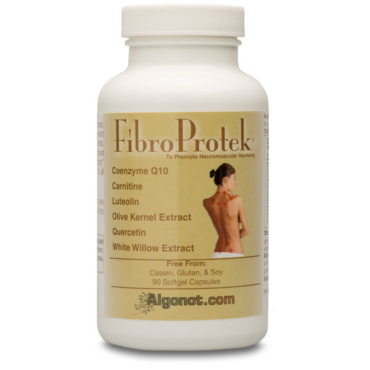 Product Description
FibroProtek is a patent-protected, all natural oral dietary supplement usting the purest ingredients. FibroProtek has been developed to promote neuromuscular harmony.*  
About the Ingredients in FibroProtek®:
Coenzyme Q10 – helps convert food to energy and may be important to cognitive and nervous system health. CoQ10 is an antioxidant, a compound that blocks the actions of free radicals, activated oxygen molecules that can damage cells. Scientists also believe that CoQ10 may have beneficial effect on the immune system.
Carnitine –  In studies, it's been shown to ease discomfort, lessen fatigue and improve mental health.
White Willow Extract – may be important to nervous system health.  In studies, it's been shown to ease discomfort, lessen fatigue and improve mental health.
About the Flavonoids in FibroProtek®:
"Flavonoids are a group of plant metabolites thought to provide health benefits through cell signalling pathways and antioxidant effects. These molecules are found in a variety of fruits and vegetables." http://www.news-medical.net/health/What-are-Flavonoids.aspx
Luteolin  – is a member of a class of naturally occurring molecules, known as flavonoids.   A number of recent published papers show that luteolin is an antioxidant that may reduce free radicals, mast cell and microglial activation.
Quercetin – is a natural flavonoid and closely related to Luteolin.    Algonot decisively chose not to use the more common and less expensive source of fava beans or peanut shells, in order to avoid possible unwanted reactions.
Other ingredients:  Gelatin, glycerin, oliver pomace oil, purified water, beeswax, carob extract, caramel and sunflower lecithin.
FibroProtek® is not a cure and you may not see an immediate response. It can take up to 90 days for you to see results from FibroProtek®
FibroProtek® is not an analgesic.
FibroProtek® should only be taken in suggested dosages.
FibroProtek® should be stored in a cool temperature place away from children.
You do not need a prescription to order FibroProtek®.
Health providers may offer FibroProtek® in conjunction with other necessary therapies
Caution: You should consult with your doctor about FibroProtek®. Consult your health professional before starting any products in the Algonot Family of Nutraceuticals. Consult your health professional before using if you are pregnant or nursing. Consult with your health professional about FibroProtek® if you are allergic to any of the ingredients listed on this page or on the label. Please print this information and a copy of the label and bring to your personal physician.
THESE STATEMENTS HAVE NOT BEEN EVALUATED BY THE FDA. THIS PRODUCT IS NOT INTENDED TO DIAGNOSE, TREAT, CURE, OR PREVENT ANY DISEASE.
*The information on this label and page has not been evaluated by the Food and Drug Administration.