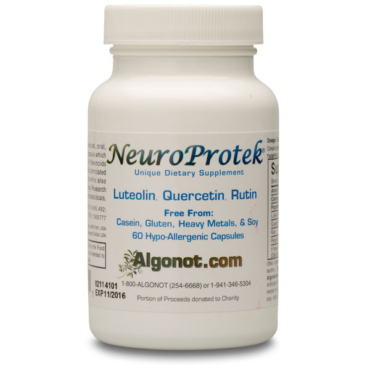 Product Description
NeuroProtek® is a unique all natural oral dietary supplement in a soft gel capsule which may promote harmony in and between the mind and body.  NeuroProtek® uses an exclusive combination of flavonoids, based on the published scientific research. NeuroProtek® is formulated to maximize effects of flavonoids while also overcoming any absorption obstacles. NeuroProtek® contains the flavonoids: Luteolin, Quercetin, and Rutin.  Unique to Algonot's family of formulations is olive kernel extract and flavonoids.
Algonot put great care and consideration in the selection of ingredients. For each ingredient attention to the source, purity and absorbability where given to develop the most beneficial product with the least amount of associated risk.
NeuroProtek® is free of the following allergens: artificial colors or dyes, flavors or sweeteners, corn, eggs, fish, heavy metals, milk/casein, peanuts, preservatives, salt, shellfish, starch, sugar, tree nuts, wheat/gluten and yeast. Our ingredients are not obtained from beef or beef by-products.
About the Ingredients in NeuroProtek
"Flavonoids are a group of plant metabolites thought to provide health benefits through cell signalling pathways and antioxidant effects. These molecules are found in a variety of fruits and vegetables."  http://www.news-medical.net/health/What-are-Flavonoids.aspx
Flavonoids are natural molecules found mostly in green plants and seeds. Unfortunately, our modern life diet contains progressively fewer flavonoids and those that are consumed are difficult to absorb because they do not dissolve in water. Under these conditions, the average person cannot consume enough to make a positive health difference. There are approximately 3,000 flavonoids. Of those, NeuroProtek® contains three:
Luteolin (> 95% Pure) is a nutrient from a class of naturally occurring molecules known as bioflavonoids.  Luteolin was incorporated in this formula after published papers showed it is important in the body as a free radical scavenger.
Quercetin ( > 95% Pure)is a natural non-acidic flavanoid. The quercetin used is NeuroProtek is obtained from the saphora plant. Algonot decisively choose not to use the more common and less expensive source of fava beans.
Rutin (> 95% Pure) is a glycoside of the flavonoid Quercetin. Like quercetin, rutin is extracted from the saphora plant and is a non-acidic natural flavonoid that adds additional anti-oxidant qualities. Rutin helps liberate quercetin in the intestine, making absorption easier. Rutin has been shown to be the strongest antioxidant in studies.
Olive Kernel Extract (Oil, Unprocessed, MicroFiltered) is a natural, potent low-acidic anti-oxidant.  This unique oil (a lipid) plays an important role in NeuroProtek® as it is used to increase the absorbability of  flavonoids. We use only virgin olive seed oil from the island of Crete, Greece.
Why the chosen flavonoids?
Flavonoids are naturally occurring compounds frequently found in green plants and seeds. In powder form, whether taken as pills, tablets or hard capsules, all flavonoids are difficult to absorb and are extensively metabolized to inactive ingredients in the liver. In fact, less than 10% of orally ingested flavonoids are absorbed. In addition, very few flavonoids are beneficial; instead, many others such as morin show no activity, while pycnogenol is weakly active (as compared to luteolin or quercetin) but could cause liver toxicity.
As an additional consideration, the most common commercial source of the flavonoid quercetin is fava beans, which can be detrimental to blood cells in those of Mediterranean origin (15%), who lack the enzyme glucose-phosphate dehydrogenase (G6PD).   Quercetin and its closely, structurally related flavonoids – rutin and luteolin, have potent anti-oxidant actions.
Can other preparations of the elect flavonoids be used?
There are about 3,000 flavonoids in nature and many impure flavonoids are sold under such names as
"bioflavonoids," "citrus flavonoids," "soy flavonoids," or "pycnogenol." Even those preparations claiming to
have only the select flavonoids, DO NOT specify either the source or the purity of the flavonoids. This problem is even worse given that many people could have reactions to the impurities, fillers or dyes.
The selection of specific beneficial flavonoids, as well as the source, purity and absorbability of those
flavonoids were taken into consideration in order to develop the most beneficial product with the least amount
of associated risk, NeuroProtek®.
Caution: You should consult with your doctor about NeuroProtek® , please print this information for your doctor. Consult a health professional before using if you are pregnant or nursing. Health providers may offer NeuroProtek® in conjunction with other necessary therapies
NeuroProtek® is not a cure and you may not see an immediate response. It can take up to 90 days for you to see results from NeuroProtek®
NeuroProtek® is not an analgesic.
NeuroProtek® should only be taken in suggested dosages.
NeuroProtek® should be stored in a cool temperature place away from children.
You do not need a prescription to order NeuroProtek®.
THESE STATEMENTS HAVE NOT BEEN EVALUATED BY THE FDA. THIS PRODUCT IS NOT INTENDED TO DIAGNOSE, TREAT, CURE, OR PREVENT ANY DISEASE.
*The information on this label has not been evaluated by the Food and Drug Administration.
Trademarks and Patents Dr. Theoharides developed NeuroProtek® and is the recipient of US patents No. 6,624,148; 6,689,748; 6,984,667; 7,115,278 and EPO 1365777.  All patents have been assigned to Theta Biomedical Consulting and Development Co., Inc. (Brookline, MA, USA) The name NeuroProtek® has been trademarked in the USA with US registration No. 3225924 and has also been assigned to Theta Biomedical Consulting and Development Co., Inc. (Brookline, MA, USA)