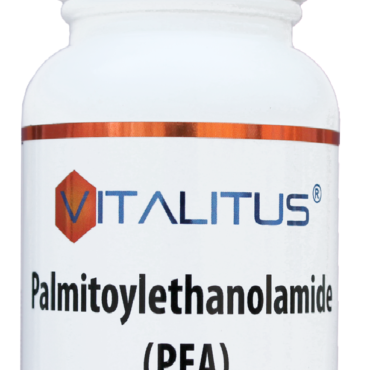 Product Description
Palmitoylethanolamide (PEA) is an endogenous fatty acid amide. This molecule is a naturally-occurring  component of soybeans, egg yolks, peanuts, and a number of other foods. PEA has always been present in the food supply and is marketed as a dietary supplement.
Our product is made from the highest quality ingredients right here in the USA; in an NSF GMP certified & FDA registered state-of-the-art facility. We eschew synthetic excipients like silicon dioxide and magnesium stearate for this product in favor of a 100% natural hypoallergenic anti-clumping flow aid derived from rice husks. In addition, we use vegetable-derived hypromellose capsules instead of gelatin.
Our product also contains a natural emulsifier to facilitate dissolution and absorption as PEA is lipophilic. Nevertheless, for best results we still recommend taking it with foods containing a small amount of oils or healthy fats (e.g. dairy, eggs, bacon, butter, steak, Italian salad dressing, coconut oil, fish oil capsules, etc.)
Vitalitus Palmitoylethanolamide contains 350mg of PEA per capsule, 60 capsules per bottle. At the recommended dosage of two capsules per day this is a month's supply for most, however your physician may recommend a different dosing regimen. In some cases our customers see a benefit from consuming 4 capsules a day for two to three weeks when starting a PEA regimen as an initial loading phase before decreasing to the recommended twice-a-day dosing.